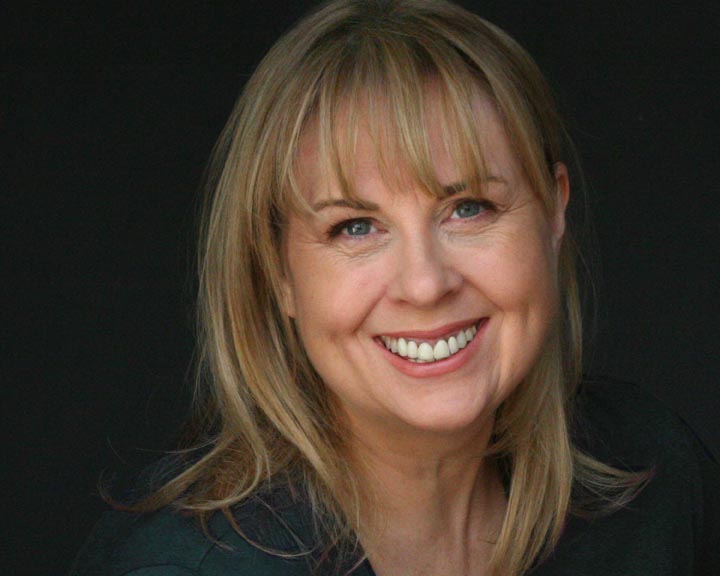 Time to revisit another of our fabulous interviews, this time with the most lovely Maxine Evans….this one occurred back in the middle of 2014, so nearly 7 years ago.
INTERVIEW WITH MAXINE EVANS!
Interview questions compiled by Evil Ruthy & irishangel
Please note: as this is an exclusive interview to Torchwood Australia, all parts are not to be distributed or reproduced anywhere else!
1. Looking over your CV, you have had an array of roles in TV, Film, Theatre and Radio. Of those platforms, which do you prefer working on and why?
Oh that's a good question! As an actor? Theatre. It's so immediate, such a thrill and each night is totally different. That 'difference' is often brought about by the reaction of the audience who become another member of the cast as far as I'm concerned. Their energy joins you on stage and you ignore it at your peril!! I think theatre is where you learn as an actor. And we should never stop learning.
2. Of the roles you have had over a number of years, do you have a particular favourite role that you have been cast as?
Maeve in 'Break, My Heart' by Arnold Wesker. It was presented first on stage and then filmed for TV. It was based on the true story of an abusive marriage and was written with me in mind to play the part. The first time we performed the piece on stage, I thoroughly enjoyed the drama and the physicality of the piece. The speech that my character fell in love with and discovered verse through for the first time, was a wonderful moment and was an extract from Hamlet. It's the speech from which the title of the piece is taken. "For break, my heart, for I must hold my tongue". Hamlet is saturated in grief he feels for his father. It colours his world. During the first run I felt I'd nailed it! And was rather pleased with myself. 4 months later my own father passed away. 6 months after that we brought the piece back to the stage. I was dumb struck. The speech took on a whole new depth of emotion for me. And touched me in a way that I shall never forget. And it reminded me that when we perform we owe something to our audience. Truth and a part of ourselves. For without it we may transmit, but no one receives.
3. The episode of Torchwood's "Countrycide", was featured in season 1, and was quite brutal in storyline. How did you go about securing the role of Helen for that episode?
It was so funny! I had auditioned for a mother in a previous episode but I was really about ten years too old. But the casting director Andy must have liked me because a week or so later I was back for Helen. I read the script and REALLY wanted it. I figured that I look like an ordinary person without even trying so I wanted to show a more dark, sexual side. I dressed in black, I wore dark eye make up but pale lipstick. I sucked a red lolly before going in so that the inside of my mouth looked extra red and blood thirsty!! And I learned the script off by heart so that I could make as much eye contact as possible. Now none of this may have had an effect on the casting but it made me feel better. Even though I got some strange looks on the tube at 9.30 in the morning!!!
4. Your role of Helen from "Countrycide" was that of a pretty nasty lady, to put it mildly. When you read the script and looked at her character, what was running through your mind with regards to how you were going to portray her? Did you have to go to a 'wicked' place in your thoughts to 'flesh out' her character (excusing the pun)?
It's such great fun to play a baddie!! I couldn't wait. I had to let go of all thoughts of right and wrong. She's about fulfilling a need that drives her to commit the most heinous acts without a second thought. It's like she's drunk, on drugs, high, in the moment. I was fine with it all until we got on set. The design was breathtaking. Literally. Corpses hanging in bags, with their blood dripping into buckets. Pieces of flesh adorned every surface of their home. Half cooked offal nestling between pieces of bread. Severed heads in bags on shelves. Organs in pickling jars!! It took it to a whole new level and Owen and I just had to jump in!!! My mother-in-law still remembers the viewing. She said it 'just didn't look like you were there'. And thank god for that eh?!!!!
5. Owen Teale played Helen's husband Evan in "Countrycide" – I have to say, you both played the characters exceptionally well (in other words, you both gave us the creeps LOL). Did you have any lighter moments with Owen/the Torchwood cast during the shoot of such a dark episode?
Off set, yes. Lots of laughs. Owen is such a great guy to work with. And I mean work 'with'. Some actors you just work alongside but Owen brings you into the world with him. We'd never worked together before but I felt at the end of the shoot that I'd known him for years. Rehearsing the kiss/fight sequence was a laugh! But the minute we got on set it just hit us both and believe me there were no laughs during the shoot itself. We became those people and just had to stay that way for it to work. Those 'people' were just so different from anything I think either of us had had to play before that we just got into their mindset and stayed there. It was a dark place. And I was glad at the end to shake her off.
6. One of the main locations of filming "Countrycide" was at Penwyllt/Brecon Beacons – it is indeed a beautiful part of Wales (if not just a wee bit scary too). Do you have a favourite spot in Wales, or is that too hard a question to respond to?
I would say the coast. The Gower peninsular because I just love the sea. It's like you are in the presence of something living, with such power that it humbles you. But I also love the Brecon Beacons. I was brought up in the Neath Valley and the mountains will always seem like home to me.
7.  From what we've read, you have had a long association with Ruth Jones, particularly in more recent years on Ruth's comedy drama "Stella".  You play the rather unusual character of Grandmother Rhian. For our members that may not have viewed any of the Welsh series yet, please list 5 statements that best describe Rhian (and let's see how many times you mention cockin' this and cockin' that – Members, I am not being rude….Rhian says cockin' frequently in "Stella" 

)?
Ha!! It's the catch-phrase of the show now really! Okay, here goes.
1. Loves a cockin laugh
2. Has to look after loads of cockin children
3. Loves her 'fat' dog
4. Loves anything that's free
5. Has a heart of cockin gold

And yes, Ruth and I have known each other since Youth Theatre. She's an amazing woman and a wonderful friend.
8. Together with Neil Docking, you run a production company called Independence Pictures. Through your company, what productions have you been recently working on, or have coming up in the near future?
Neil is the writer in the family (He's my husband). We have 3 projects in development at the moment. A Musical (He's also a musician/ composer), a Play and a Comedy series that we are hoping to film in the autumn and distribute through You Tube! We've worked together many, many times in our careers in British Television and Film. Mostly with me directing his work. Working together is what we love more than anything. Because when we do, very little bullshit gets in the way of the project. We don't always agree but that's the healthy bit as far as I'm concerned. We've worked with other producers in the past who have often not, in our eyes at least, done the best by the work. It always seems to become about their personal agendas. So now we'll be in control. So if it's brilliant? Happy days. If it's crap…at least it is our crap. Teehee. I'll keep you posted.
9. You have an interesting skill set on your CV including mezzo soprano, dog handling, choreography, to name just a few. We presume you have a love of music/singing and dance. Has this been something you have had an interest in since your childhood, or did this develop later on in your life?
Oh if I'd had my way I'd have gone to ballet lessons at 4 and stage school at the earliest opportunity after that! But I was from the Valley's of Wales in the 60's and my Mum and Dad thought it was a phase. They were old enough to be my grandparents and we really didn't have much money. My school careers advice was to do English so I could teach. But I was still banging on about acting and stuff at 16 so I studied 'A' level Drama at the local 6th Form college. I thought I'd died and gone to heaven!! And I haven't let it go since. It's very different there now, huge opportunities for the talent born and bred in Wales these days. I'm very glad to say!
10. Thinking back, what was the most difficult/challenging drama exercise you had to tackle in school?
There was an exercise called the 'coffin exercise'. I don't know if they still do it. But it's about imagining someone you know and love lying dead in front of you. I have to say that it is something I couldn't do. Some of my classmates had lost loved ones and for them it was torture to say the least! But I found the exercise meaningless. Without context I couldn't do it. When playing a part you can be free to imagine and are given clues within the text as to how you would react, what the relationship is, their name!! But imagining my mum or dad lying there was something that my mind just wouldn't do. I felt like I had failed in some way. Many years later when I visited my mother's dead body in the Chapel of rest I have to say that drama and life are sometimes a million miles apart. It really wasn't like it is in the movies. But maybe that's a good thing eh?
11. Who would you say most influenced you, among your drama teachers, and why?
Ann Morris and Jill Cuthbert. Under the auspices of a wonderful gentleman Godfrey Evans, who ran the West Glamorgan Youth Theatre, of which Russell T was also a member, those two women gave me faith. They never questioned that I couldn't be a professional actor/ dancer/ director/ writer/ anything…anything I wanted they just told me to go for. I'd never had that before. Ann passed away many years ago but Jill still lives in Swansea. And you know what? I'm going to go and see her this summer now because you've reminded me. Thank you.
12. To date, what is your worst/funniest and/or best audition experience?
I'm not a confident singer. AT ALL!! I remember auditioning, many moons ago, for a part in a musical. I was so nervous my knees were knocking. In fact I had to lock my knees back so that I could stand on the stage without my legs buckling (I do not exaggerate). The pianist asked me to sing the beginning without him. He didn't say it was so that he could pick up the tempo that I wanted. So I just rattled off the first few lines. He looked at me and said "Are you sure?". I thought he was making fun and just eyeballed him and said "Yes". Well he started so fast I could barely keep up. Fast? I didn't know my diction was so good! We rattled through the whole song in seconds. The audition panel just stared in disbelief!! But rather than admit my mistake I walked out of there, like I had been fitted with leg braces. Head held high, pride in pieces!!
13. Is there a role that you regret turning down?
Awe bless you!!! I've never been busy enough to turn a role down! But thank you for thinking that I might have.
14. Is there a TV series or a theatrical play that you really aspire to being a part of, a dream role perhaps?
My dream, is that one day I will play Linda Loman in Death of a Salesman, and Mrs Lovett in Sweeney Todd (But I would need a costume that would cover the leg braces for that one).
15. As you would be aware, many actors get the opportunity to appear at Conventions and such throughout the UK. Have you ever had the opportunity to be a part of an event like that, or if not, is it something you would like to do, being able to interact with your fans?
I'd love it. I cannot understand actors who have no time for their fans. It bemuses me. The only role to date that I am recognised for in the street is Rhian in Stella! It's a joy! But the greatest number of fan letters that I have ever received was for Helen Sherman. My old drama school classmate Torri Higginson is a regular in Stargate Atlantis. And we both agree that the best fans in the world are SciFi fans. My Dad was a huge science fiction/ horror fan. I have hundreds of his books in my attic. He was devoted to the genre. My only regret is that my Dad wasn't around to see me in Torchwood. He would have been chuffed to bits!!
16. Do you enjoy the social aspect of Twitter? We all seem to have a cockin' good time on there when you are around!

I'm very new to it but yes I love it. You can have some very special moments on there and it's a great way to connect with fans. My only regret is time! I never seem to have enough bleedin time at the moment. But that'll change and I'll be back on there 'cockin' away very soon!!!!
17. Torchwood is of course a spinoff of Doctor Who – have you ever been a fan of the Doctor, and if so, which one is your favourite/which is YOUR Doctor?
John Pertwee was my Doctor. I loved him!! Me and my Dad would watch every episode and I'm convinced my fear of spiders comes from it. Planet of the Spiders terrified me. I loved it!!!
18. Have you ever visited Australia before? If so, favourite part you got to visit/experience? If not, where do you like to holiday?
At the moment visiting Australia is impossible! We have 2 Staffordshire Bull terriers and I couldn't put them in a kennel. But one day…

We very rarely have holidays. We've had 4 in 22 years!! Ha! We just work I'm afraid. But we grab weekends here and there last minute and they are very special. We love going to Northallerton near Yorkshire. Then over to Whitby to visit old Dracula country and get some good old fish and chips!!!
19. From what we've read you are a real dog lover, particularly of Staffordshire Bull Terriers. Have you always had this particular breed? And are you typical of a real dog lover, in that they are very much a part of your family?
These two Staffs are my first dogs as a grown up. But both my husband and I had dogs in the family when we were growing up. My friend had a Staff when her kids were young and I made the HUGE mistake of saying "But you can't!!! They'll eat your children!!!". I was, like many people, ignorant of the breed. But now I'm like a boring preacher!!! I adore the breed. In the right hands of course. They are very powerful animals physically, but emotionally bleedin wrecks!! Very needy and very loving. Extremely devoted.
Rapid fire……some quick questions for you………
20. Are you an avid reader? Do you have a favourite book?
No. I hate to admit it but I'm not. But I'm reading Mary Shelley's Frankenstein at the moment and am gripped!!!
21. Saturday nights in, or love to be out and about 'partying'?
In!
22. Any hobbies?
My dogs.
23. Favourite type of music/favourite song?
Anything and everything. Classical when I need to lose myself. Disco when I need to find myself again!!
24. Top 5 all time favourite movies (in no particular order)?
Shawshank Redemption
Aliens
District 9
Nightmare Before Christmas
Terminator 2
25. Favourite motivational quote or saying?
We open in 2 weeks!!!!