Let's step back in time to 2012 – time for some fabulousness in the form of an interview with "Leela"……..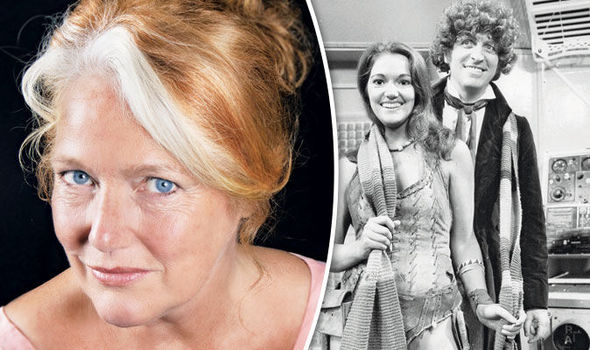 The Torchwood Australia Website and Forum is very pleased to present an exclusive interview with Louise Jameson, "Leela" from the Classic Who days.
We wish to thank Louise for giving us the time and agreeing to participate in this interview.
Please note: as this is an exclusive interview to Torchwood Australia, all parts are not to be distributed or reproduced anywhere else!
1. One of your very first roles was in 1971 in a TV programme called "Tom Brown's Schooldays" – how did it feel walking on set for the very first time? Did you feel a bit out of your depth or was it just a day full of excitement for you?
The naivety of youth… I was so excited to be there. The whole process was fresh and exciting and I was completely taken care of. Even down to the camera man giving me a lesson on size of framing, and lighting.
2. Before joining "Doctor Who", you had a number of roles in TV programmes/movies over those early years. Is there something in particular that stands out as an amazing memory or experience?
THE GAME…. It was a one off drama filmed in Manchester, first Drama they ever did. And I adored the classic feel of it and the class struggle content of the script.
The Doctor Who Years:
3. You were cast in the role as 'Leela', companion to Tom Baker's Doctor. Tom appears to be one of the most popular Doctors from the Classic series. Please tell us a bit about working with Tom during your time on Who.
If I had a tenner for every time I am asked this question I would not need to ever work again.

He was difficult, no question, but he cared so deeply about the programme and is such a talented actor that one forgives him anything.

Tom and I have recently reprised our Doctor/Leela roles on audio for BIG FINISH (launching next Saturday) (ADMIN EDIT – this occurred during February) and I can honestly say the whole process has been an absolute delight. And Tom has been ADORABLE to work with.
4. From the look of Leela's costume, you remind us of an early version of Xena Warrior Princess. Was the costume awkward to move in or uncomfortable?
Initially it was uncomfortable, but after we'd added the back flap and made it easier to have a pee, all was good.
5. Were there any funny moments or off screen pranks that occurred during your Who years?
I wish I could come up with more anecdotes than I have… it was really quite a serious process, and the times we did fall about laughing you 'had to be there'…. There was one time on the top of Wills Factory in Bristol when I was FREEZING in that costume that Tom wrapped me up like an Egyptian mummy and when the word 'action' rang out he spun me free to continue with the scene.
6. Were you sad to finish your run as Leela? Or did you feel it was time the Doctor had a new companion?
Because things weren't brilliant with Tom and I way back when, I was ready to go. And went straight to Bristol to play PORTIA in THE MERCHANT OF VENICE – things were really happening for me career wise then.

I never thought that Doctor Who would be such a source of comfort, income, work, travel, discussion, laughter for me in 2012, like no other job has been.
After Doctor Who:
7. You've had various roles in a number of TV programmes over the years since "Doctor Who", probably one of your longest running was on "Eastenders" – did you enjoy working on such a long established show?
Actually BERGERAC was 4 years, and Tenko and EE were both 2…….

I found EE quite hard to work on. There is a very 'us and them' feel between the management and the actors. However, my family were adorable, and who wouldn't want to go into work with those two boys waiting to hug you every day!
8. Having performed as Leela in "Doctor Who", played Tania Braithwaite in the Adrian Mole TV series, and lately being cast as Eleanor on "Doc Martin", how does it compare going from time travelling warrior woman, to relatively 'normal' roles as a Mother? Which do you prefer?
Every role has its challenges, good and bad….. the more dramatic, the more you have to delve, the more the satisfaction. I would say, overall, that Blanche in Tenko has been my favourite TV role to date. But my favourite form of performance is small theatres. Not so much dosh to be had, but the artistic satisfaction, the immediacy of the audience, the story telling without interruption…. I love all of that.
9. One of your passions appears to be theatre – do you prefer working on stage over filming a TV programme episode? We gather it would certainly be more nerve wracking performing live?
See above
10. You have appeared in a number of Shakespeare plays – do you like performing Shakespeare or do you have a preference for non-Shakespeare roles?
I am PASSIONATE about Shakespeare….. if you can do him well you can do anything. He is at times, perfection and expresses deep emotion like no other.
11. You've worked on BBC Radio plays and have also recorded some audio dramas for Big Finish and Fantom Films. Do you find perfoming audio much easier than working in TV and theatre? Is it something you will continue to do?
I've just started my own audio company, currently called DOWNLOAD DRAMA DOT CO DOT UK… yes it's easier simply because you don't have to learn anything. Although some actors make the mistake of thinking you don't have to work on the text…. Not true…… especially with sci fi. BIG FINISH are fabulous to work with, and, if they'll have me, I'll continue with them forever.
12. Have you enjoyed your role in "Doc Martin"? (Ruthy said) I have personally visited Port Isaac and I have to say it is a beautiful part of Cornwall. What were your impressions of "Port Wenn"?
I have completely fallen in love with North Cornwall… and have revisited already, and have another short holiday booked in the Spring. This last summer was one of the happiest of my life. The job was the best 60th b'day present I could have had.
13. You are currently touring the play "Pulling Faces", which is a one woman show? Have you been enjoying working solo on stage, and what has the audience reaction been like?
Audience reaction has been fantastic! People standing at the end on occasion. Very humbling and very gratifying. I'm always scared before I go on, but once it is underway it becomes a joy.
14. We believe there was a promo going around at the end of last year, that you were performing "Pulling Faces" at a Doctor Who fan event. Did this go ahead, and if so, did you enjoy your trip to Australia? Have you visited our country before?
I loved Australia, sadly it was far too short a visit. Yes I performed in Sydney, the show went incredibly well, and I'm doing it again in LA at another convention in a couple of weeks.
15. You have a few Fan events lined up in the near future, including "Gallifrey" in Los Angeles. Do you enjoy the opportunity of meeting the Who fans, and will you continue doing these type of appearances in the future?
Yes, I do like meeting the fans, but spread out convention performances, so that it remains enjoyable, I think you can OD on them if you're not careful.
16. What projects do you have lined up for 2012?
The show I am next going to do has been written by NIGEL FAIRS and me and is called MY GAY BEST FRIEND. It is a two hander which we shall be performing at The Brighton Festival every Sunday.

I run a theatre college for teenagers on a Sunday, we are going to be performing THE COMEDY OF ERRORS, in July.

DOWNLOAD DRAMA will be underway.

More BIG FINISH on offer

…and hopefully more writing….. I have an idea for a script that is very intense, and complicated, but necessary to address…. Watch this space
17. Of all the roles you have had, and a great number of actors you have worked with, is there one who really stands out as the ultimate co-worker?
I would have to say the cast of Tenko, and if I had to pick one person it would be VERONICA ROBERTS who played Dorothy. She is wise, and wonderful, and talented.
Louise from a personal perspective:
18. As you seem to be a very busy woman, how do you wind down when you aren't working?
I work some more!!!! Actually it is a bit of a problem, and I should find some more downtime.

I'm going on a balloon ride soon…. Does that count?
19. Do you have any hobbies or activities that you are passionate about?
Reading, theatre, Zamba classes
20. Do you have any pets? If so, what type?
I have a fabulous dog, part staff part collie. Rescue dog, impossible, adorable, characterful. I've always had rescue dogs and the occasional cat.