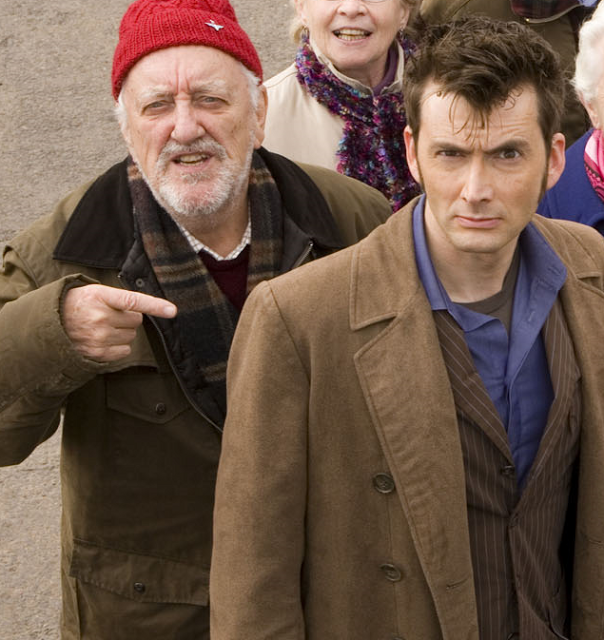 Yes we are stepping back in time again to 2010, when I had the wonderful opportunity to interview via telephone the fabulous Bernard Cribbins. Definitely the highlight for me of all our interviews to date….enjoy!
Interview questions compiled by Quantum Librarian and Evil Ruthy

Interview conducted by Evil Ruthy (by phone)
The Torchwood Australia Website and Forum is extremely proud to present an exclusive interview with Bernard Cribbins, our very own Wilfred Mott from 'Doctor Who'.
We were fortunate enough to be granted a phone interview with Bernard, and I must say, it was such a pleasure and honour to get to speak to him directly. He was so lovely to talk to, and it was fascinating to hear all his stories and tales about his years as an actor.
We thank Bernard profusely for giving us the time and agreeing to participate in this phone interview – I'm sure you will thoroughly enjoy Bernard's responses.
Please note: as this is an exclusive interview to Torchwood Australia, all parts are not to be distributed or reproduced anywhere else!
[Interviewer's note – Bernard and I started the conversation about the weather, as you do.  I advised him that it was rather warm here, to which he replied "well it is bloody cold here".  Yes it was certainly a delightful interview, and I very much enjoyed being a part of it.]
1) You have worked within the British film and television industry for many decades. What major changes have you seen and been a part of in that time? What was the most exciting for you to be a part of? Have they all been good changes?
Major changes – I don't really know about major changes – mainly technical changes I guess over the years … changes in lighting – much better than the brutes (lights) that used to fizz at you; of course we now have CGI which is used in every possible sequence of film … but modern lighting now speeds things up, a lot quicker these days. The changes have certainly been good.
2) What originally motivated you to become an actor? Are you still motivated by the same things or have your goals changed?
When I was a 'girl' of 12, I was invited to play a couple of small parts with a local repertory theatre in Oldham, where I was born – after clearing it with my parents, I played roles like a cheeky grocer's boy in 'Lavender Ladies'. I left school at the age of 13 and the local repertory theatre offered me a job as assistant stage manager which I worked at whilst taking on small roles as well. I am really an actor by accident. My salary back then was 15 shillings a week … working a 70 hour week at the age of 14.
3) What is your favourite medium (television, film, radio plays, stage, comedy musicals) to work in? Why? Do you have a preference in the types of work you accept? For instance, do you prefer acting roles over narration work, etc?
I suppose it would have to be theatre, which I have done for most of my life as an actor; I worked 8 years in 'Rep', then did my national service as a paratrooper, and then back to the theatre after that.

I didn't like live TV much – you would have something like 3 cameramen, producers, a sound man, all seemingly getting in the way, anything could go wrong, and of course it wasn't your fault when it did go wrong. TV now is great though.

I loved doing films and being amongst the professionals.

I love doing radio – you don't have to shave, and you can wear your old clothes, all whilst 'playing a vicar' on radio … wonderful!

My favourite job I think would be doing 'Guys & Dolls' at the National Theatre – 80 performances in Repertoire – it was wonderful playing Nathan Detroit.

I guess my main preference is anything as long as I enjoy it. With narration, you have to apply to the stuff that you are narrating – to me narration and acting are the same thing.
4) Do you find it relaxing to be a 'mature' actor in the business? Has your acting technique changed a lot since first starting out? Are there particular challenges that a 'mature' actor has to overcome in this industry (such as stereotypes about age etc)?
Well I guess I must've improved since I began

I was taught by some very good people when I was a little lad in Rep, and you learn so much by osmosis.

I don't think I've changed (my technique or otherwise), and I've always remained truthful to my career and my jobs.

A particular challenge I had to overcome was on the job I've just finished with 'Doctor Who' – it was challenging running after David Tennant; the Doctor would be saying "C'mon Wilfred" – definitely the hardest to overcome.

It was wonderful to be acting on 'Doctor Who' – great job. They've shown the Christmas episode 3 times here recently, and 'Doctor Who' is up for an award next week.
5) You voiced the characters in the original 1973-1975 'Wombles' TV series. And you also read more stories on BBC's 'Jackanory' than any other actor. How often are you recognised for your narration in these two series? For instance, do you get grown-up adults coming up to you now to reminisce about their childhood Womble / Jackanory experiences?
I'm definitely recognised by my voice alone, and when grown up adults approach me, I can tell their age by what they remember and recognise what they listened to. After talking with David (Tennant) about 'The Wombles', he told me that he had a Tomsk toothbrush holder when he was a young lad.

I actually finished narrating 'The Wombles' in Sydney – in 1973 I was on my first trip to Australia, doing a play in Melbourne. There were still 4 episodes of 'The Wombles' to be done. The producer had a nephew in Sydney who had a sound studio so I flew from Melbourne to Sydney, finished off those 4 episodes, and then flew back to Melbourne to return to the play.

On the Christmas 'Doctor Who' special about the Titanic, Kylie Minogue didn't know who I was, until it was mentioned that I narrated 'The Wombles'. And then of course she remembered my narration of it.
6) Have you been involved in mentoring young actors? Have you been involved in teaching acting classes or workshops?
No I haven't, been too busy … it may come later though.
7) Are there any roles or TV shows that you regret turning down? Or are you happy being where you are, career wise, right here and now?
I can't think of any, there probably would have been some. Most of the jobs I've been offered, I've taken. I've only taken two jobs for the money in my life, so I'm very happy with what I've accepted over the years, quite happy. I guess it would've been nice to go to America and do a western though.
8) You originally acted in the 1966 Doctor Who film (Daleks' Invasion Earth: 2150 A.D.) and now you play Wilfred Mott in the revamped, current BBC television series. What do you personally like about the long-running show? And why is it, do you think, that the British public, and indeed most of the world, find Doctor Who appealing and so enduring?
That film is actually being shown tomorrow by the British Film Institute. [Interviewer's note – this was actually last Saturday 16th January] I will be sitting there, taking questions, and then they will show the original film.
It has been a good job working on 'Doctor Who'. I had a lovely part/great character. The unit down in Wales would have to be the best I have worked with in my whole career, a bit like being in the 'paras' – very organised, they just get on with it, and nobody moans. The schedule is tough but they keep on top of it.

I like the scripts written by Russell T Davies, and some of the other writers of course. The directing is good … the whole ambience in Wales is wonderful. BBC Wales forever!!!
9) What is your own all time favourite Doctor Who storyline / story arc?
Just so many, don't know. In the Christmas (Titanic) episode, it was nice meeting Kylie (Minogue), and it was my introduction to David (Tennant) on that episode.
10) In 5 words, describe your character – Wilfred Mott.
Honest, reliable, loyal, sentimental, lonely.
11) What is your favourite scene from the recently aired Doctor Who The End of Time?
Favourite scene is where David and I are in the spaceship, looking down on earth, and I'm reminiscing about being in Palestine when I was 18.

I mentioned to Russell (T Davies) at one point about the time I was standing on a roof in Haifa, it was Christmas Eve 1947, all sorts of rubbish flying around, it was cold, little bit of snow. Anyway, he introduced it into the scene. And that led into the scene with the gun and David, when Wilfred said to David about the Master, "then kill him first".

It was a lovely segue, about being a soldier, continuing into that scene. It was a very nice scene and I think we both played it quite well.
[Interviewer's note – I have just rewatched this scene and I have to agree with Bernard on this one … it is a beautiful, emotional scene, played so brilliantly by both Bernard and David]
12) There was a particular scene in Part 1 of The End of Time that was rather poignant, the scene where the Doctor and Wilfred were in the cafe. Was that scene 'difficult' to film, especially considering these were David Tennant's final episodes of his Doctor?
No it wasn't difficult at all. It was a very nice scene to play, so emotional, we played it way way down. Filming with David close up is wonderful – no wonder all the girls like close up scenes with David

David is just so giving as an actor.
13) In your opinion, what was the most unexpected plot idea within The End of Time?
I think the most unexpected plot was when Wilfred is locked in the 'chamber' and he is knocking, four times, and the Doctor realises that Wilfred is the one knocking, and as a result, he had to take in all that radiation to let Wilfred out.

I think they glossed over the part where Wilfred got in there in the first place, to let that technician out, unwittingly locking himself in.
14) Before working on the new Doctor Who, were you a fan of the show at all? Do you have a favourite Doctor?
I was sort of a fan – I used to watch it some time ago.

I guess my favourite (before David Tennant) was Tom Baker and general opinion of everyone here seems to be Tom Baker and David Tennant. Tom played the kinky kooky idiot which I loved, and David is very good!
15) You have had a marvellously varied career, including roles in some of the 'Carry On' films – the 'Carry On' films were probably considered quite risqué in their day – did you enjoy those years in your career, when you could be involved with that type of project?
'Carry On' films risqué? Never [he laughs].
I enjoyed them – most of the films I worked on were in the 60's. Two 'Carry Ons', 'Casino Royale', 'She' with Ursula Andress. I worked with David Niven in Israel.

During that time, I didn't do theatre for several years, and I enjoyed all those little films, especially 'Carry On Jack'. Ed Devereaux from Australia was in that too. During breaks in filming, we would play cricket, and Ed would be the Australian side, and I would be the English side.

Another film was 'The Wrong Arm of the Law' – that had a lot of Australians in it; Ed Devereaux, Bill Kerr and Reggie Lye.
[Interviewer's note – At this point, Bernard and I discussed Ed Devereaux further, and Ed's role in 'Skippy']
I also met Ken James (from 'Skippy') in 1973 – he was in that Melbourne play I appeared in, and that was his first job in theatre.
16) What was it like working on such an epic film like the 1967 Bond film 'Casino Royale'? You certainly worked with some big names on that project.
I didn't meet any of the big names on 'Casino Royale'.

I played a taxi driver, nice part certainly. The lovely thing was I'd only just taken my driving test, and passed that morning, and then we had a night shoot at MGM Studios Elstree, and I had to drive down a steep ramp, and do all sorts of manoeuvres. It was certainly interesting when I had only just passed my driving test. The ramp was so steep, they had to block the wheels with a railway sleeper before we started shooting. Yes so that all happened on the same day – nice film.

Someone told me that as Peter Sellers and Orsen Welles didn't really get on that well, that when they had to film a scene, across a table, whilst playing cards, they actually filmed that scene separately, they didn't do the scene together.
17) Are you often recognised in the street, mainly for your most recent work as 'Wilfred Mott'?
Indeed I am – mainly for Wilfred.

My wife Gill and I were in the supermarket one day, and we were all wrapped up, it was very cold, and I had a black woollie hat on. A kid that was about 2 foot high, points at me, he would've been about 6 years old, and he said to me "You're in Doctor Who!" And I said "Did you watch it", and he said "yeah", and "Did you like it" and he said "yeah". And then another kid and his Dad came up to me as well. It's wonderful. These young kids only knee high, and wanting to talk to me about 'Doctor Who'.
18) Whilst researching your career, we came across some very interesting youtube clips/audios, for eg 'Hole in the Ground' which made it to #9 on the UK charts in 1962 – were you surprised at the time, how well you went in the music charts? And for your info, here is a link to one of the said youtube clips http://www.youtube.com/watch?v=ZGk4AKOwJbc
I had three hits, 'Right, Said Fred', 'Hole in the Ground' and 'Gossip Calypso'. They never made it to Australia though, as I think someone over there covered them. Maybe that young Johnny Farnham? Perhaps I should ask him for the money.
[Interviewer's note – sorry Bernard, after much research, I couldn't find anything on an Australian covering these. Perhaps some of our members could do some research and see who did them over here. It wasn't John though – better hold off asking for that money!]
A lovely episode came out of a musical in London; George Martin from Parlophone Records, used to do the albums from the shows, and he recorded Joyce Blair and myself. On the A side was 'Folk Song' and that sold 20,000 copies in 2 weeks. EMI noticed of course and wanted another record. Ted Dicks did the music and Myles Rudge did the lyrics – they created 'Hole in the Ground' and 'Right, Said Fred'.

Noel Coward made a remark when he did 'Desert Island Discs' (radio show); if he was only able to take one record to a desert island, it would be 'Hole in the Ground'. When asked why, he replied that "I could translate it into French as I walked up and down the beach". It is lovely to hear remarks like this.
19) Have you always resided in the UK, and if so, do you have a favourite spot you really call home?
I've always resided in the UK; I've been in the same home now for over 40 years. Gill and I both like the coasts, the hills and things, but where we are is ideal for my job – near film studios, and near to London.

Wales is a lovely country. Great ambience at the film studio; everyone we met was fantastic.

I visited North Wales a long time ago – Snowdonia is a gorgeous place.

When I'd get together with my mates, before I was married, we travelled to Scotland and Ireland several times, hitchhiked our way, staying in hostels.

When I visited Australia, we went to Queensland and I loved the Cairns/Port Douglas area – we spent 2-3 weeks there.
20) Name five things or people that really mean the world to Bernard Cribbins.
I can only think of 4.

Gill, obviously.

My fishing tackle.

All my friends.

My job.
[Interviewer – At this point I asked Bernard if he was good at fishing]
Yes I'm a very good fisherman. I made a dvd with 8 x 1 hour episodes – it contained a variety of course fishing and fly fishing. Some years ago, I did the narration on this series, but this time I'm actually narrating and fishing.
(Surprise question added at the last minute)
21) What do you think about the 'push' for a proposed Knighthood for you?
What push? It has nothing to do with me whatsoever.

They can push and you never know. It'd be great though, wouldn't it?

I did get a Bafta a couple of weeks ago – a special award, a Children's Bafta for 'The Wombles', my songs etc; John Cleese came on film and spoke about the 'Fawlty Towers' episode; David Tennant appeared as well. It was really nice to get that.
[Interviewer] I said to Bernard that he may not speak to me again when he becomes Sir Bernard, and he said to that "yes there will be a melt down and I might have a nasty scar on my shoulder" … "No, I would be very happy to talk to you again."
[Interviewer] And so would I Bernard, and so would I!